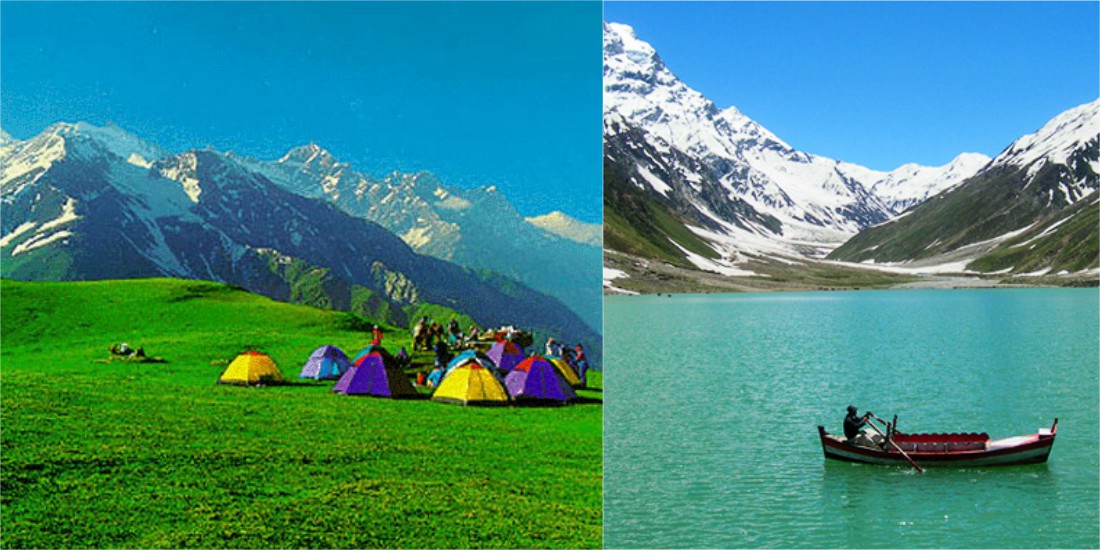 'TOP 10' MOST BEAUTIFUL AND MUST VISIT PLACES IN PAKISTAN
You must have always heard about terrorism, issues of law and order in Pakistan, but no one has ever told you what's inside this beautiful country that you may regret if you haven't seen it.
Pakistan is a country blessed with beautiful natural sceneries especially the northern area of Pakistan is so beautiful and peaceful that it is better than any other country's landscape. The beautiful green valleys, high mountains, attractive lakes and rivers, pure and healthy water coming from the mountains giving beautiful scenes as well when going into the river are such beautiful that you can't blink your eye while watching all these scenes.
If you are a foreign traveler or even local, this blog is for you to start planning to visit this amazing place 'Pakistan'. This blog is to help you identify the most beautiful places in Pakistan and you will surely say after visiting these places that "Pakistan is heaven on earth" and surely has most mesmerizing views.
1-Neelum Valley:-
Neelum valley is located in the north most part of Azad Kashmir. This valley is bow shaped. This place has beautiful mountains, noisy Neelum River which is the centre of attraction for tourist. The river has variety of fishes like brown trout, rainbow trout, snow trout, etc. so you can enjoy the taste of these fishes as well. The best time to visit the Neelum valley, is in summer as the weather in summers is awesome here, it snows heavily in the winters here due to which the roads are blocked. Some other must visit places in Neelum valley are Halmat, Sharda Fort, Baboon, Kutton, Jagran, Karen, Surgon, Kel and many more areas. You need to spend 3 to 4 days in this valley in order to explore all these beautiful places.
2-kaghan valley:-
Kaghan valley is one of the areas of Pakistan that is mostly visited by the tourist, both local and foreigners, because of the work done by the government in building proper roads to reach this place. This place has most beautiful sight of green mountains. Kaghan is located in the northern area of Pakistan at the height of 2,134 feet from the sea level. The 155-kilometer valley is wrapped by the Lower Himalaya extend, bringing about a snow capped atmosphere and the commonness of pine backwoods and high glades making this valley even more beautiful. One must visit Babusar top when coming to kaghan valley, The top is the highest point of kaghan valley located at the height of 13,691 feet above sea level having exceptionally beautiful views.
The best time to visit this area is from May to August as you will find beautiful weather there, especially in the mid of June when there is rainfall in this area making this place even more beautiful. The valley is blocked in the winters by the snow and the temperature goes too down that you can't visit this place in winters.
3- lake saif-ul-mulook:-
If you want to see breathtaking views then you must visit lake Saif-UL-muluk. This lake is situated in the northern area of Pakistan near the town Naran. This lake is at a height of 10,578 feet above sea level and it is one of the highest lakes of Pakistan. From Naran you can reach this lake through jeep and the way to reach this lake is so adventurous that it will go down in your memory lane as the roads are made by cutting glaciers and that gives such mesmerizing view that no one can even imagine off. Since this lake is situated in between mountains you can do a lot of activities there like hiking, trekking, horse riding etc. and can easily spend the whole day there.
4- Skardu:-
Skardu is a city in Gilgit Baltistan province of Pakistan and is at a height of 2500 meters above sea level. Skardu is getting famous for its beauty by the time as it looks like a paradise in this world. The mountains in Skardu are the centre of attraction for both local and foreign tourist and the people who like hiking and trekking mostly visit this place. The famous mountain region includes K2, gasherbrums, broad peak and the Trango towers. The huge glaciers of the Baltoro, Biafo and Trango also catch the eye of tourist and make Skardu one of the main tourist and mountaineering base in the world. Other than the mountains the famous places to visit in Skardu are the Skardu fort, Deosai national park, Shigar fort, Kachura lakes and Satpara lake. You can't visit Skardu by road. There is a direct flight from Islamabad to Skardu, which is the only source of reaching this beautiful place. The best time to visit this area is from April to October after that the area is cut off by the snow.
5-Chitral:-
Chitral is in the northern part of Pakistan in the province Khyber Paktunkhuwah. Chitral is famous for its amazing sceneries, beautiful lakes and rivers. Chitral is the centre of attraction for those who love trekking as it has beautiful regions of the mountains. Other than that you must visit Chitral as there is very famous Garam chashma, Shahi mosque, Bomboret village, Buni village etc. because of the beauty of these areas Chitral is called the heaven on earth.
6-Kalash valley:-