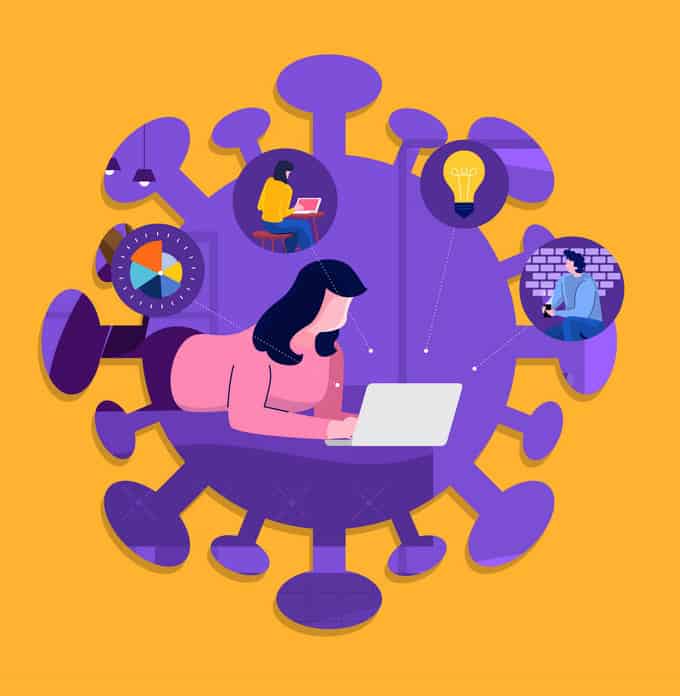 5 Ways To Find A Job Digitally During Lockdown
Lay Off?
Internships Terminated?
Jobs Delayed?
How you can find a job in these uncertain times?
We have some solutions point not all MBAs get into fangs of the goal by fans we mean the Face book's, Amazon's, Netflix and Google's of the world so how do you find a good job digital.
Looking For Freelance and Remote Work Opportunities
Let's check out the five ways to do this another one look at freelance remote work opportunities. let's admit it due to the global pandemic the economy is bound to get affected and with that the job market - in fact there might be fewer opportunities out there right now and in the near future so why not ship to freelance there's many a website like Angel List where you can find freelance and remote work opportunities in fact you can also sign up on the campus conversations app by inside. If you are an MBA student looking for opportunities don't forget to check it out reach out to recruiters on these websites and take the freelance route when finding a job seems difficult.
Looking for work using LinkedIn and Social Media
Use LinkedIn and social media sounds easy right well not quite first you have to shortlist the right opportunities that fit your profile and interests then you have to find people from your shortest and companies on LinkedIn, Face book, Twitter etc and connect with them next you shoot out messages to these people and ask for reference but do not spam these people this exercise will help you connect with the right people digital and you never know when that will be useful for you.
The Nina Muffle Way
The Nina muffle wanted to get into a bagel she tried to get in touch with the company through emails and job listings but no luck Nina then decided to take her prep up a notch she created a stunning resume that mirrored the Airbnb website and the time Nina had approved Airbnb many times but never got shortlisted for an interview but with this digital resume she not only shared her profile at her XP she also shared her insights about the travel industry and how a baby could perform better so how did this help her land a job at Airbnb her digital profile showed the company her commitment ownership and her ability to strategize in fact she got interview calls from uber and LinkedIn as well you too can build a digital resume on profile showcasing your work and achievements share art music products you have worked on logs you have written or photos and videos even made dress up your profile for the job you want get noticed by recruiters for being proactive.
Looking for jobs on Reddit and Cora
Use Reddit and Cora do you remember seeing questions like how to get into Google how to get into Amazon how to get into McKinsey on popular discussion platforms like Reddit and kora check out the answers to these questions they are written by experts who might have worked in these companies. So, how does this help you find a job well just like what you did use England if you can reach out to these people asking for a reference chances are they'll help you get in touch with the company a charge to find work.
Connecting with Alumni
Reach out to the college alumni network if you are a student in some of India's top be squeals you will have an access to vast alumni network after short listing which companies you wish to work for reach out to your school alumni ask for reference this will definitely help you land a job you need.
So, these are the five ways you can get hired digitally
Make your own profile stand out by building a website and linking it to your social media etc.

Reach out to recruiters on Angel List and choose to freelance

Ours connect with recruiter's via LinkedIn or social media connect with employees and ask for reference through reddit and Cora

Reach out to your college alumni network.